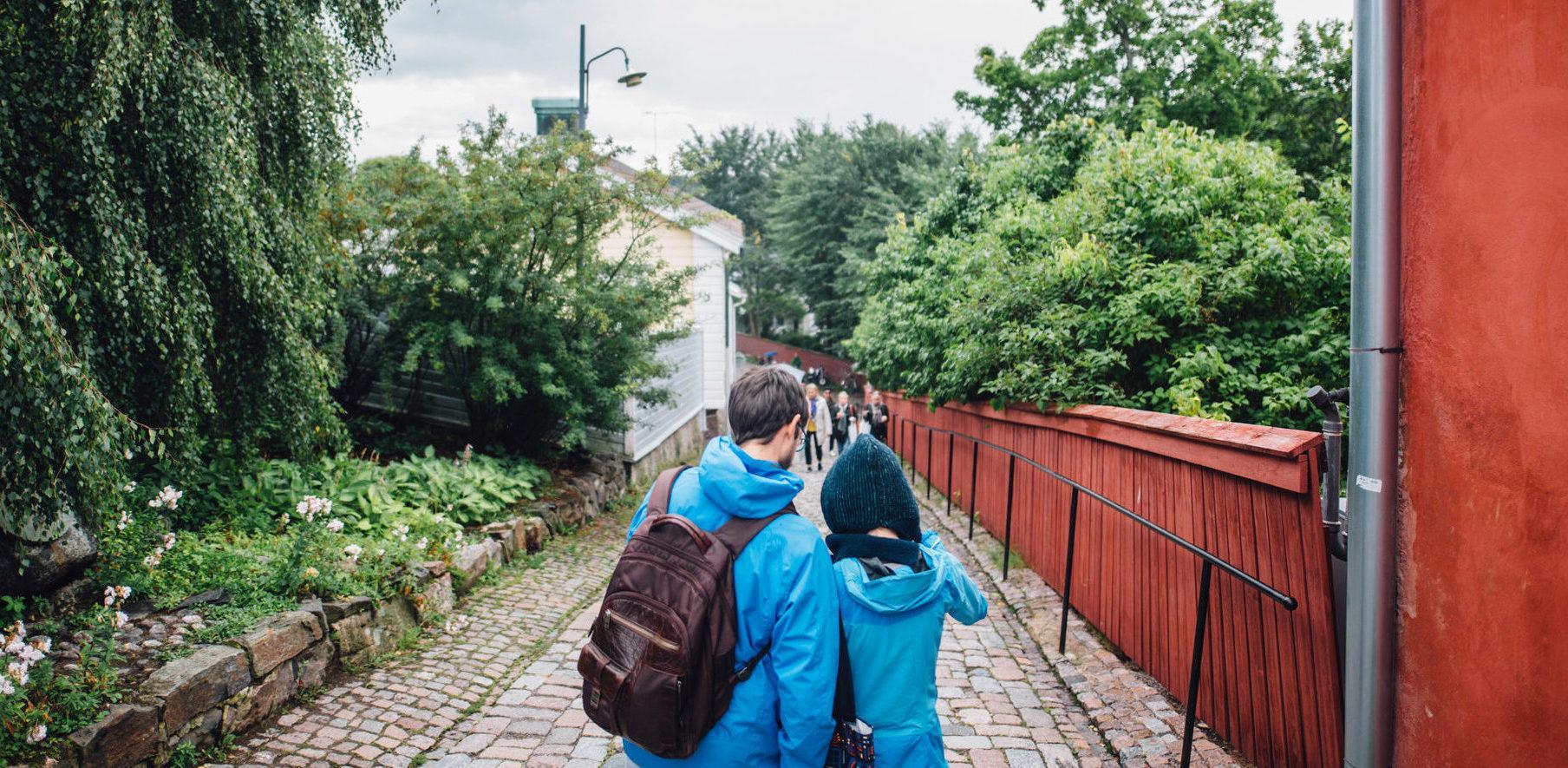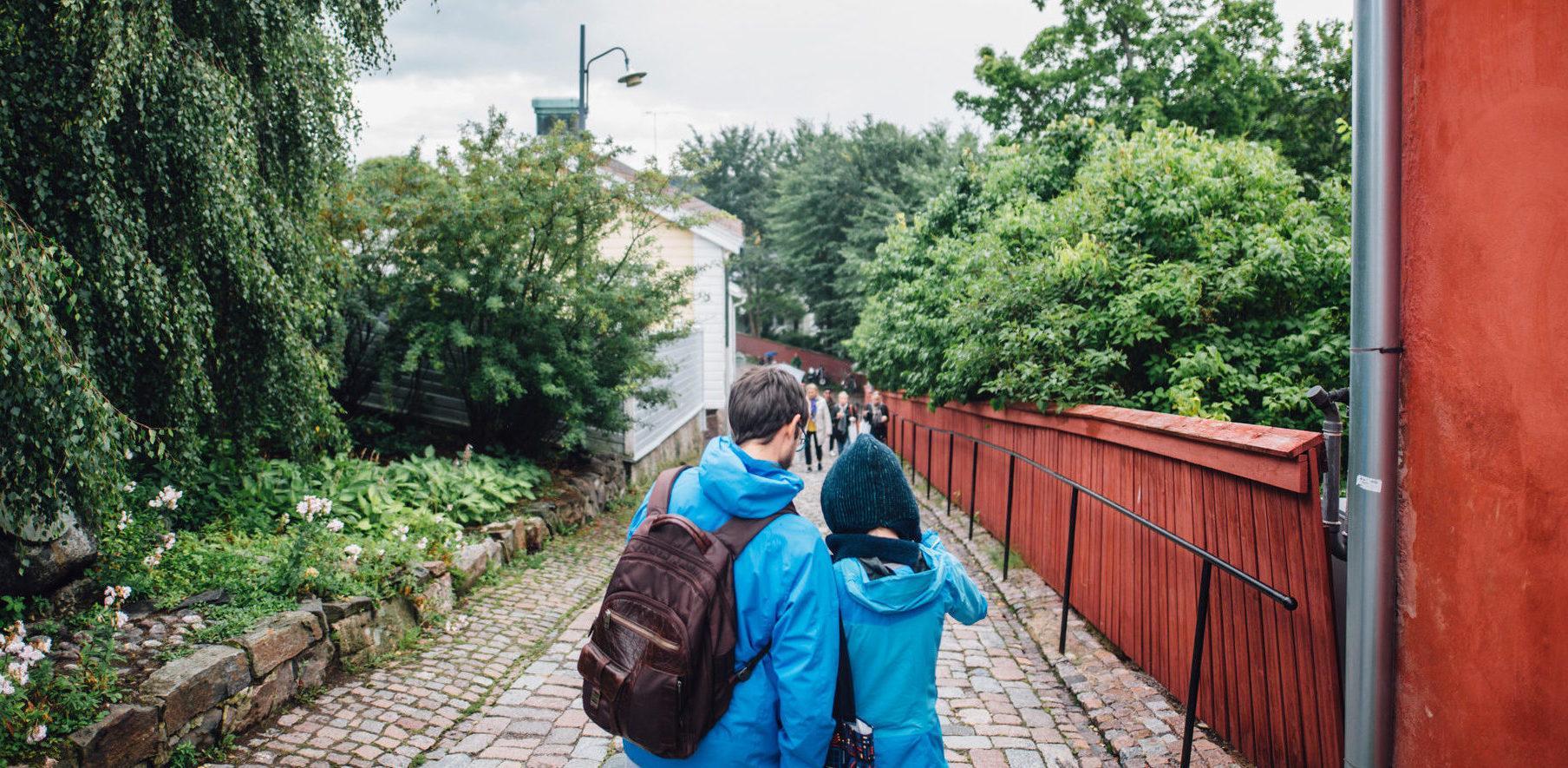 FAQ – Frequently asked questions
We often hear the same questions and queries about Porvoo, therefore we have compiled answers to these frequently asked questions. We hope they will be of help during your visit in Porvoo!
We have just arrived in Porvoo by car. Where can we park
free of charge?
Near the Old Town you will find street side parking free of charge by the Cathedral on Kirkkotori Street. Please note that on the square you can park for three hours with a parking disc. You can also park your car free of charge in the Empire-style district south of Aleksanterinkatu Street.
In winter there is free parking on the edge of the Old Town on the Näsinmäki side on the west bank of the River Porvoonjoki. You can get there by turning onto Vanha Helsingintie from Läntinen Mannerheiminväylä. The parking lot is at the end of Vanha Helsingintie on the right, before the bridge across the river. Please note that during summer this parking lot is only for coaches. You can find other parking places for coaches on the map.
In Porvoo there are also many parking areas, where you can park for one to four hours with a parking disc. This is a statutory blue plastic sign that shows the parking time. You place it in a visible location inside the windscreen and rotate the disc so that the arrow points to the next full or half hour, depending on which time is nearest to your arrival time. The places where parking discs can be used are shown by traffic signs. The discs cost two to three euros and can be purchased from well stocked stores, kiosks and service stations.
Parking places can be found for a parking fee in Old Porvoo at Rihkamatori, in the city centre, on the riverbank and in the Art Factory area. In Porvoo the parking fee is €2/h from Monday to Friday from 8am-6pm and on Saturdays from 9am-3 pm. The shopping centres Kauppakeskus Lundi, and Citymarket and the Art Factory also have underground parking for a fee.
You can see from the signs at the parking places whether they are free or subject to a parking fee.
Where can I store luggage during my stay?
Many local hotels offer luggage storage, it is best to contact them directly and ask about their luggage storage system.
I'm in Porvoo for a few hours. What should I do and see during my stay?
Porvoo is well known for its Old Town and for its cultural life. Old Porvoo with its cobbled streets and colourful old wooden buildings has many attractions. The most popular sights in the Old Town are the Cathedral, the red-painted riverside warehouses, the small shops and boutiques and the many restaurants and cafés, each with its special atmosphere. The museums and art galleries are also worth a visit. A walking tour of a few hours in Old Porvoo will take you to all these sights.
The best known attraction in the centre is the home of Finland's national poet Johan Ludvig Runeberg in the Empire-style district of Porvoo. This is a home museum where everything has been kept as it was in the days when the Runeberg family lived there. Near the Runeberg home there is also Walter Runeberg's collection of sculptures. Culture House Grand by the Market Square offers culture seekers a menu of various events suitable for everyone from kids to granddads. In the city centre area, you can also enjoy the beautiful parks and walk along the riverbank admiring the river scene, not to mention shopping in the city centre and in Lundi Shopping Centre.
The Art Factory, opened in spring 2012, and its surroundings is an interesting place to visit in Porvoo. Here you can go to art exhibitions, concerts, films, shop in trendy boutiques and have an excellent meal. The Art Factory is located on the west bank of the River Porvoonjoki by the Aleksanterinkatu Bridge near the city centre. The Porvoo City Tourist Office is also located in the Art Factory.
If you have a little more time to spend in Porvoo, you should visit the Porvoo archipelago. The archipelago offers many opportunities for active holidaymakers, but others will also enjoy the atmosphere and sights of the islands. In Pellinki you can, for example, visit museums, an art exhibition, go for walks, fish, or shop for local products at the summer market. In summer Söderskär lighthouse and Klovharun are also popular amongst tourists.
In summer you can see the archipelago by taking a cruise. The cruises depart from the passenger harbour on the Porvoo riverbank. m/s J. L. Runeberg also cruises almost daily between Helsinki and Porvoo during summer.
Even in winter there's plenty to do in Porvoo. In addition to sights that are open all year round and various events, you can do winter sports in Porvoo. Near the city centre there is a skiing centre with five illuminated slopes, where you can also hire skis.
I would like to try some Porvoo specialties. What do you recommend?
Perhaps the best known of Porvoo specialties are the Runeberg's cake and Brunberg's chocolates and confectionery. The cake, named after our national poet Johan Ludvig Runeberg, is eaten on the poet's birthday 5th of February, but in Porvoo you can try them in cafés all year round. In the Old Town, for example Café Helmi and Café Fanny serve Runeberg's cakes.
Brunberg Chocolate Factory has made chocolate and confectionery in Porvoo since 1871. People are coming around the world to taste Brunberg's chocolate kisses, truffles, liquorice, and other sweets. The company has two shops, one in Old Porvoo on Välikatu Street and one at the chocolate factory on Teollisuustie Road in Tarmola. Both shops have the same products and prices.
The proximity of the sea in Porvoo has made its own mark on the food. Various fish dishes, Baltic herring and salmon are favourites among locals. Many local restaurants serve dishes made with local ingredients. You can also buy locally produced products in the shops and markets of Old Porvoo.
How late do the shops, restaurants and sights usually stay open in Porvoo?
The shops and boutiques in Old Porvoo are generally open on weekdays from 10 am-5 pm and on weekends from 10 am-4 pm. Some shops are closed on Sundays. In the high seasons in summer and at Christmas the shops have extended opening hours.

The shops and department stores in the city centre are usually open from 10 am-6 pm and on weekends from 10 am-4 pm. Some shops may have shorter or longer opening hours or might be closed on Sundays. The shops in the Art Factory shopping mall are usually open on weekdays from 10 am-8 pm, on weekends from around 10 am-4 pm or closed. Note that the opening hours may vary depending on the shop. It's worth checking directly with the shop you want to visit for details on opening hours.
Restaurants are open until about 10 pm. Lunch restaurants and cafés usually close earlier at 5-6 pm. You will however be able to order coffee in the evenings in many of the restaurants. Bars, pubs, and night clubs are open until 2 am-4 am.

The tourist attractions in Porvoo are usually open until 4 pm.
Where can I find free maps and brochures?
The Porvoo City Tourist Office has free maps and brochures on Porvoo themes, but you will also find them in many hotels, guest houses, cafés, restaurants, at the Helsinki-Vantaa airport and at Tourist offices in other cities. You can also order brochures and maps in advance direct from the tourist office. All the Porvoo City Tourist Office's maps and brochures are free.
Where can I find a public toilet?
There are chargeable public toilets in Old Porvoo by the old bridge and the Market Square. There is also a chargeable public toilet situated under the Mannerheiminkatu bridge. To open the door, hold your payment card close to the NFC terminal. Your card will be debited 1 euro and 50 cents. Cash payment is not accepted. In addition, the Lundi Shopping Centre and the Art Factory have toilets for the public use.
I would like to try Finnish sauna. Are there any
public saunas in Porvoo?
Private persons can have a sauna at the swimming pool or the spa at Haikko Manor. Most hotels also have saunas for guests to use. Groups can book various company sauna facilities for their own use.
I hear Porvoo has a beautiful archipelago. What's the
easiest way to get there?
It's true that Porvoo has a very beautiful archipelago, which is worth seeing! The easiest way to get there is with your own or a rented car or boat. There are buses to and from Porvoo and the archipelago that operate a few times a day – in the afternoon you can get to the archipelago and return to the centre of Porvoo in the morning. You can find the bus timetables in more detail at Matkahuolto.
I have noticed there are signs in two different languages.
One is Finnish, what's the other one?
Finland has two official languages: Finnish and Swedish. Approximately 30 percent of Porvoo's inhabitants speak Swedish as their native language, which is why both languages are used here.
I want to get on the Internet. Where can I use a wireless connection or a computer?
In Old Porvoo you will find wireless connections in some cafés and restaurants. In addition, the Art Factory has wireless LAN that serves the whole Art Factory area. The Art Factory and Porvoo Main Library have computers for public use.
Where can I buy alcoholic beverages in Porvoo?
In Finland, alcoholic beverages that are under 5,5 % are sold in stores and supermarkets. Stronger alcoholic beverages are sold in stores called Alko. Porvoo has three of these. One is on the west bank of the River Porvoonjoki at the Näsi S-Market at the address Aleksanterinkaari , one is on the eastern side of the town in Tarmola at the K-Supermarket at the address Asentajantie 1 and one in Old Porvoo at the address Välikatu 1.
I want to call home, but I can't get my connection to work here. How do I make a phone call abroad?
You can buy a mobile phone connection at R-kiosks, and you can charge your mobile with the amount of call time that you want. To start the connection, you need a starting package. These are available at different prices, depending on the operator. The package contains a SIM card and the phone number as well as the required PIN and PUK codes. The connection is ready for use when you have inserted the SIM card and keyed in the codes when requested. You can top up your call time at R-kiosks.
A ticket was left on my car windscreen while it was parked. What does it mean?
You have been given a fine of €50 for parking wrongly or for exceeding your parking time. You can pay the fine at the service center Kompassi, at the address Rihkamatori B on the edge of Old Porvoo. You can also pay at a bank or on the Internet.
My Porvoo trip is coming to an end. How do I get back to Helsinki or to the airport by public transport?
From Porvoo you can get to Helsinki by bus in less than an hour. For the timetables see Matkahuolto. There is no public transport from Porvoo to the airport, but you can always take a taxi or take a bus to Helsinki and a train from Helsinki to the airport. In summer you can also get from Porvoo to Helsinki by boat.