Erkko Vaniala
A peaceful, beautiful and sophisticated city — this is how sports-loving systems specialist Erkko Vaniala describes his hometown. Pick up his favorite attractions below
"I appreciate my hometown very much," says Erkko Vaniala. "I was born in Porvoo and I have never wanted to move away."
Erkko describes Porvoo as a peaceful, beautiful and sophisticated city that has gorgeous nature, beautiful old buildings, the sea and a river.
The systems specialist working at Neste in Kilpilahti spends most of his free time doing sports.
"I play football, tennis, padel and floorball. I don't know any other city that would have better conditions for doing these sports!"
What is your favorite place in Porvoo?
The tip of Emäsalo. It is an infinitely beautiful place that always makes you calm down and feel better. The tip of Emäsalo is where rugged rock and the sea meet. The place has probably looked roughly the same for hundreds, if not thousands of years.
I always go back there with my dogs, friends and partner.
What are the three best attractions you would take your guests to?  
I live on the border of Old Porvoo so I tend to go around the old town with almost every guest. But on top of that…
During summer Tirmon saaristokeskus has a nice archipelago vibe. People spend their free time there and meet others. Saaristokeskus has a relaxed vibe. The area has a store, restaurant, sand beach and a guest harbor.
On the way there we often stop by Bjurböle summer market and eat some crepes.
Porvoon Paahtimo is the best place when I take my guests to sit, talk and spend time. During summer you can sit on the river barge or patio and in winter the upstairs is a warm and atmospheric place to enjoy mulled wine for instance.
I often take my guests to Sikosaari as well. There you can feast your eyes on the nature and birds and walk the nature trails. The boutique of Sikosaari sells local fish, berries, mushrooms and a seasonally changing selection of products. If you are lucky, you can spot sheep and cows on the island.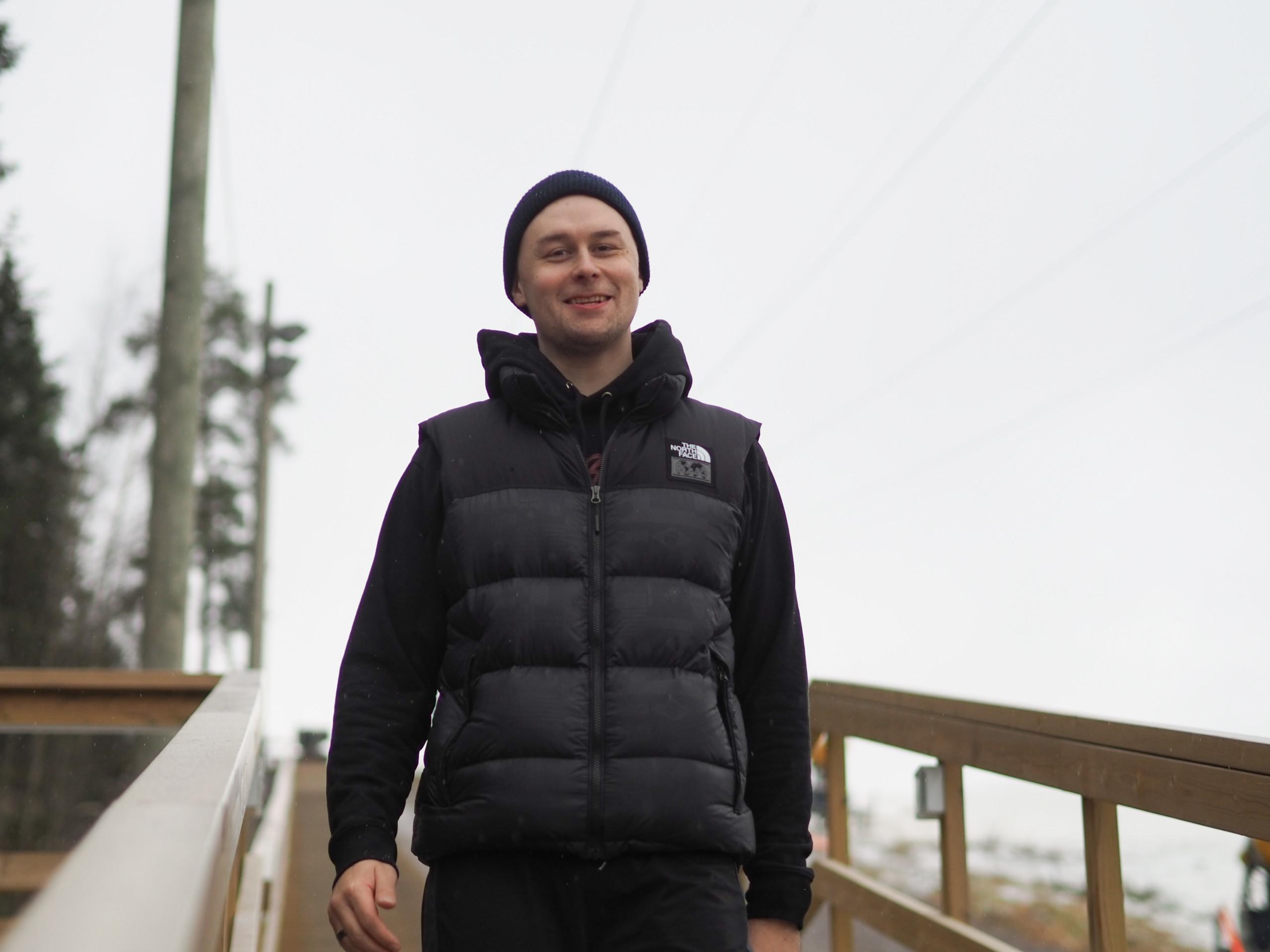 What are the three best restaurants, cafés or bars in Porvoo?
One could be Café Fanny in Raatihuoneentori. We go there with our dogs during summers to enjoy a piece of cake or some small snacks.
I have always received great service and delicious French-inspired food in Bistro Gustav, which is located in an old apothecary building. Gustav has a stylish, welcoming and beautiful decor.
If you want to spend a night out, Kliffa & Klubi is one of Finland's best cocktail bars. It has an industrial style decor and the place also has a night club.
What is the best free attraction in Porvoo?
You should head to Kokonniemi and climb up the new nice workout stairs. From the top of the hill you can see all of Porvoo and the city lights.
If you have children with you or you are an animal lover like me, I would go to the bird watching tower in Ruskis through Rantakatu to see Highland Cattle. They are jovial looking creatures! You can get to the bird watching tower by walking along the duckboards. There you can see birds and other animals.
What three places would you recommend to shoppers? 
If you have a sweet tooth, I would recommend Little Chocolate Factory or Petris Chocolate Room. Both offer handmade chocolates.
I would lead interior design lovers to Sasu's Playhouse. You must have a very interesting style if you cannot find anything for your own place there…
Number three, hmm. This one is a little more difficult. Well, I must mention brewery Kråkö Bryggeri. It is located in an old school building about 15 kilometers from the city center on Kråkö island. The brewery sells great craft beers.
Choose one of the following: best cultural event / most romantic location / best sports location / most fun family attraction in Porvoo.
Workout stairs! I defend them here as well. The workout stairs have quickly become known as a new landmark in Porvoo. You get an insanely good workout by going up them. The stairs are good for people of all ages, and it is a free place where in addition to exercise you also get to see Porvoo from different perspectives.