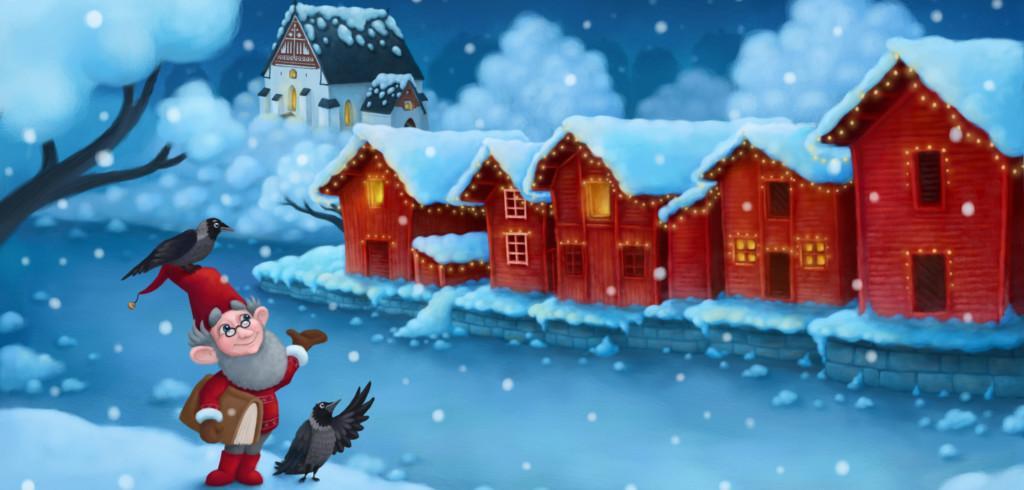 Get to know Fredrik Flodbåt who is Porvoo´s own Christmas elf
Fredrik Flodbåt
Nickname: Fredde
Age: 639
Holds most dear:
A handbook that also reveals the very original recipe for baking the Runeberg cake
The Elf factors:
Natural science 9/10, Handicrafts 10/10, Playfulness 11/10
The river valley of Porvoo has been inhabited as far as man can remember. A long, long time ago, on a fine summer's day, a mighty riverboat was sailing past the picturesque scenery. Deep in its bowels had a small elf called Fredrick Flodbåt been traveling for some time. When he floated past the beautiful red ochre warehouses, he shrieked and jumped into the river– swimming right across and onto the shore. He had found home. No one knows when this was exactly – Porvoo is so old and so is the elf. Freddie, as we like to call him, doesn't recall it either.
Fredrick is so extremely fond of his dear old city and its charming inhabitants that he can't refrain from playfully teasing them now and again – and again. The mischievous elf's best friend is a black jackdaw who lives in the bell tower of the Old Cathedral. From the tower the two pals can see all the town's nooks and crannies, secrets and shenanigans.
"The Diet of Porvoo" was one of the greatest events the two have witnessed from these heights – this was an event that lasted for months and during which the Grand Principality of Finland was established.
The elf's greatest role model of all time is the Runeberg family itself. He can't quite get his head round the fact that the family of Finland's national poet is still living in people's hearts through all the art, beauty and words they left behind. Although with an eyesight of a hawk, Freddie wears a pair of glasses on top of his pointy nose – just like his idol did.
When not coming up with pranks for his fellow citizens, Freddie and his jackdaw friend spend their time strolling around the extremely beautiful nature that surrounds Porvoo. Walking, flying or cycling through the national urban park all the way to the sea and the islands of Pellinge is not uncommon for this curious and spirited little elf and his faithful bird companion.
One of the pair's favourite spots of all is Lennätinvuori in Haikkoo. Fredrick loves autumn when the colours take over the breath-taking scenery and turn it into a fairy-tale. The elf knows that the red and orange hues eventually turn white, when the snow envelopes everything and all is ready for Christmas.