Program for Porvoo Lights 2023
Explore the program for Porvoo Lights 2023. Dress according to the weather and head out and enjoy Porvoo in the dark.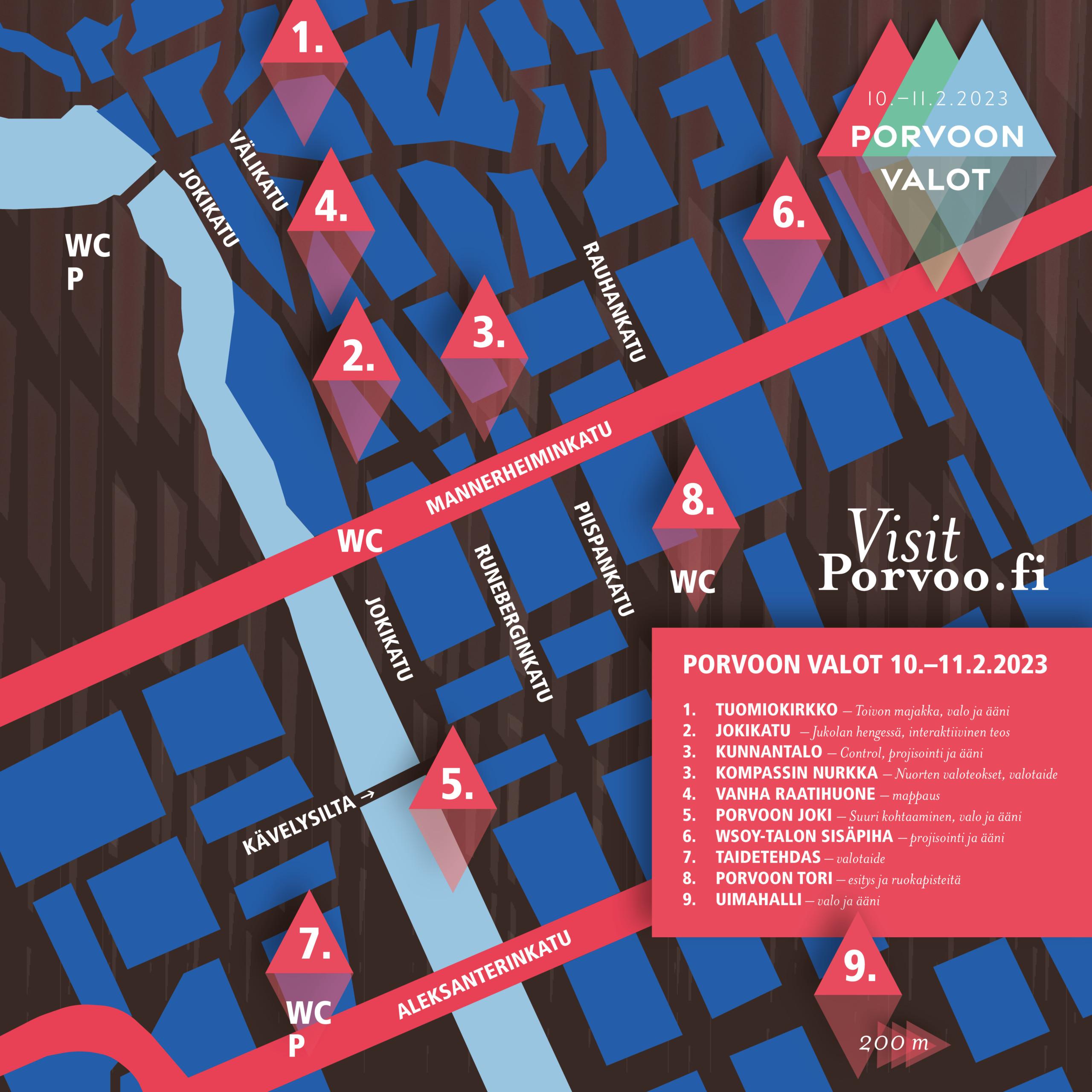 The festival starts in the public swimming pool
The light piece in the public swimming pool is lit from the 29th of January to the 12th of February. Jump in the pool and enjoy the show. The lights are on from 6AM to 8.45AM and from 6PM to 21PM.
Program in the swimming hall on Friday the 3rd of February from 6PM to 20.30PM
The swimming hall offers special program for the same price as the entrance ticket. On Friday the 3rd you can enjoy mermaid swimming from 18-20 and participate in water yoga from 20-20.30
The cathedral – A Beacon of Hope
The cathedral has been a part of the festival from the very beginning. It is one of the most beautiful buildnings in Porvoo
Jokikatu running through Old Porvoo will display an interactive piece.
Municipal house – Control
Circum will use the municipal house as a canvas for a massive projected piece. The piece is also interactive.
Kompassi – Gallery window by the Art School
The students in the Art School will display their light pieces in the gallery wind by the municipal house.
The old town hall will recieve a mapping animation sequence during the festival. The piece is a colourful continuous 5 minute loop.
Porvoo Lights food square
The Art Factory dance school will perform on the square. You can enjoy the dance show with lights and music while enjoying different food and cafe products.
The massive light installation can be seen above the river between the walking bridge and the Aleksanterinkatu bridge.
The inner courtyard leading to Zentra in the WSOY building offers an interesting light installation designed in cooperation with Zentra.
The great windows of the Art Factory are painted with phosphorous paint and lit ub by uv-light. The artwork is an interpretation by Janne Parviainen of Michelangelo's fresco in the Sistine Chapel in Rome.